A Book I'd Give Anything to Read Again: The Luckiest Man: Life with John McCain by Mark Salter
A deeply personal and candid remembrance of the late Senator John McCain from one of his closest and most trusted confidants, friends, and political advisors. More so than almost anyone outside of McCain's immediate family, Mark Salter had unparalleled access to and served to influence the Senator's thoughts and actions, cowriting seven books with him and acting as a valued confidant. Now, in The Luckiest Man , Salter draws on the storied facets of McCain's early biography as well as the...
Read more...
tags:
A Book I'd Give Anything to Read Again: The Wise Men: Six Friends and the World They Made by Walter Isaacson and Evan Thomas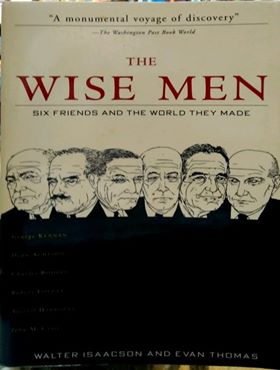 A captivating blend of personal biography and public drama, The Wise Men introduces the original best and brightest: Averell Harriman, Secretary of State Dean Acheson, George Kenan, Secretary of Defense Robert Lovett, John McCloy, and Ambassador to the Soviet Union Charles Bohlen.
Binding Type: Paperback
I

SBN: 0684837714

Publisher: Simon & Schuster
Year published: 1986
Number of pages: 853
"Journalism ar the heights! Scintillating... Must be read if we are to understand the post-war world."-...
Read more...
tags:
A Book I'd Give Anything to Read Again: Benjamin Franklin: An American Life by Walter Isaacson
During his 84-year life, Benjamin Franklin was America's best scientist, inventor, publisher, business strategist, diplomat, and writer. He was also one of its most practical political thinkers. America's first great publicist, he carefully crafted his own persona, portrayed it in public, and polished it for posterity. In this riveting new biography Walter Isaacson provides readers with a full portrait of Franklin's public and private life - his loyal but neglected wife, his bastard son with...
Read more...
tags:
A Book I'd Give Anything to Read Again: Wolf Hall by Hilary Mantel
WINNER OF THE 2009 MAN BOOKER PRIZE WINNER OF THE NATIONAL BOOK CRITICS CIRCLE AWARD FOR FICTION A NEW YORK TIMES BESTSELLER England in the 1520s is a heartbeat from disaster. If the king dies without a male heir, the country could be destroyed by civil war. Henry VIII wants to annul his marriage of twenty years and marry Anne Boleyn. The pope and most of Europe oppose him. Into this impasse steps Thomas Cromwell: a wholly original man, a charmer, and a bully, both idealist and opportunist,...
Read more...
tags:
A Book I'd Give Anything to Read Again, The Getaway by Jim Thompson
Doc McCoy is the most skilled criminal alive. But when for the first time in Doc's long criminal career, his shot doesn't hit the mark, everything begins to fall apart. And Doc begins to realize that the perfect bank robbery isn't complete without the perfect getaway to back it up. THE GETAWAY is the classic story of a bank robbery gone horribly wrong, where the smallest mistakes have catastrophic consequences, and shifting loyalties lead to betrayals and chaos. The basis for the classic...
Read more...
tags: